We are happy to anounce that two of our Santa Maddalena wines have managed to be ranked as the TOP 9 Schiava of South Tyrol in the latest Winesurf tasting:
– Our Franz Gojer Glögglhof Santa Maddalena  Classico Vigna Rondell DOC 2017 has reached 93 Points at the Winesurf 2018 tasting and was ranked as the best of the TOP 9 Schiava of South Tyrol!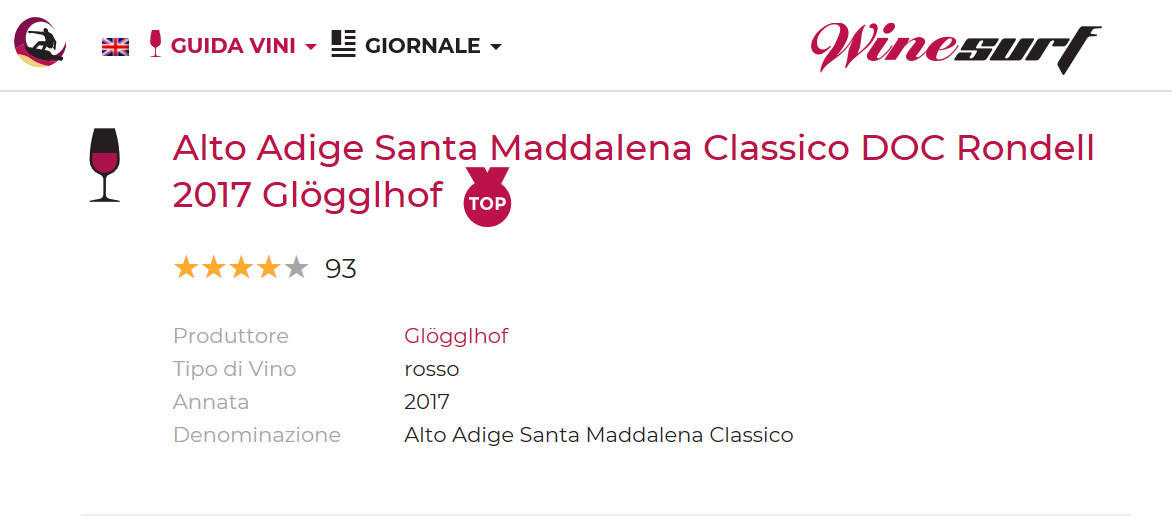 – Our Franz Gojer Glögglhof Santa Maddalena Classico DOC 2017 has reached 86 Points at the Winesurf 2018 tasting!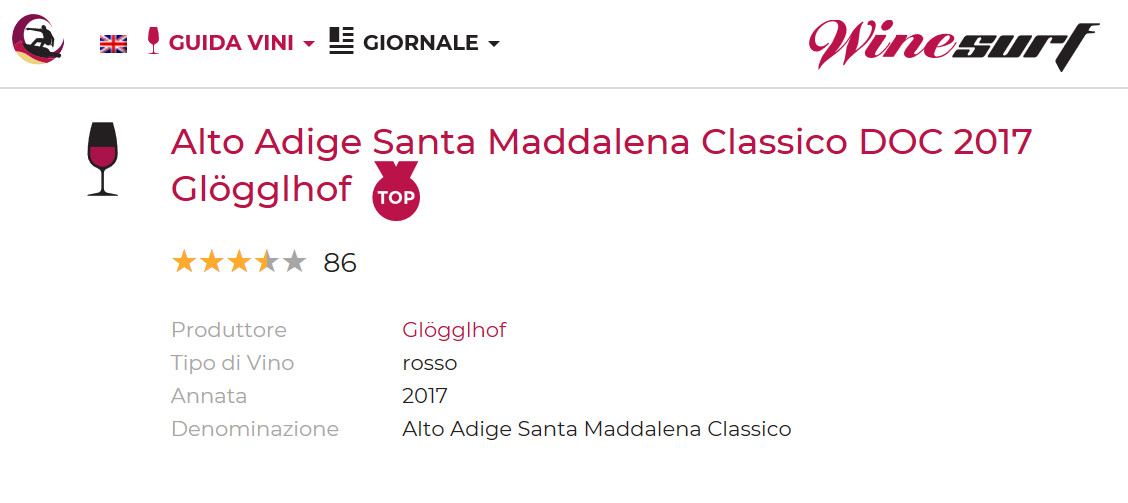 What Winesurf says about the South Tyrolean Schiava:
"In 2017 the level of the Schiava was as high as we had not remembered for a long time.
If you want something more from the Schiava you have to get to the area of Santa Maddalena. Here, in 2017, this wine has developed an aromatic depth and a harmonious gustatory texture that has often amazed even those who, like us, have known the territory for years.
We believe that this further qualitative step is above all mental and it is to say that many producers have begun to believe in the Schiava and its enormous possibilities. This renewed determination is leading to expressions that are not only youthful, but also graciously deeper and more sensual.
The time has now come to rethink even lower outputs to achieve results that can now only be imagined but that are certainly within the reach of the denomination.
For now, however, enjoy these wines and do not think at all that a Lake Caldaro or a Santa Maddalena drunk more than a year after harvesting are a risk. On the contrary, they are a certainty to have wines ready and without the risks of closure due to recent bottling.
Another fear could be that of pairing: here, too, rest assured, you can pair a good Schiava with practically anything, including aged cheeses."
~Carlo Macchi~
You can find the whole ranking here (IT).